European labour market is projected to be lacking more than 670,000 ICT professionals in 2020. Qualified digital workforce is needed more than ever to enable Europe to enhance its global competitiveness as digital innovation became a key factor. As the salaries and employment rates gap is closing between the Eastern and Western parts of Europe, it is clear that new challenges, like skills gaps, shifting professionals and missing soft-skill sets in the ICT sector have to be handled by a complex education and training ecosystem to keep up with global competition.
One of Central Europe's leading coding bootcamps, Codecool recently published its report, which examined employment rates, salaries and other key aspects regarding the ICT sector in the EU-28 countries. Based on its findings, the study highlights the urging need to discover new fundaments of cooperation between European policymakers, enterprises, higher education and the actors of the private education sector to be able to provide the necessary, quality workforce in this accelerated sector. 
Digital workforce in the EU: almost 9 million professionals
In 2018, some 8.9 million professionals worked as ICT specialists across the EU-28 which makes up 3.9 % of the total workforce of the researched countries. This also means that in only ten years, the number of ICT specialists in the EU has increased by more than 40%. While the employment shares are continuously the highest in Western Europe, most of the countries from the CEE region – like the Czech Republic, Slovenia, and Hungary – are already surpassing or nearing the European average share.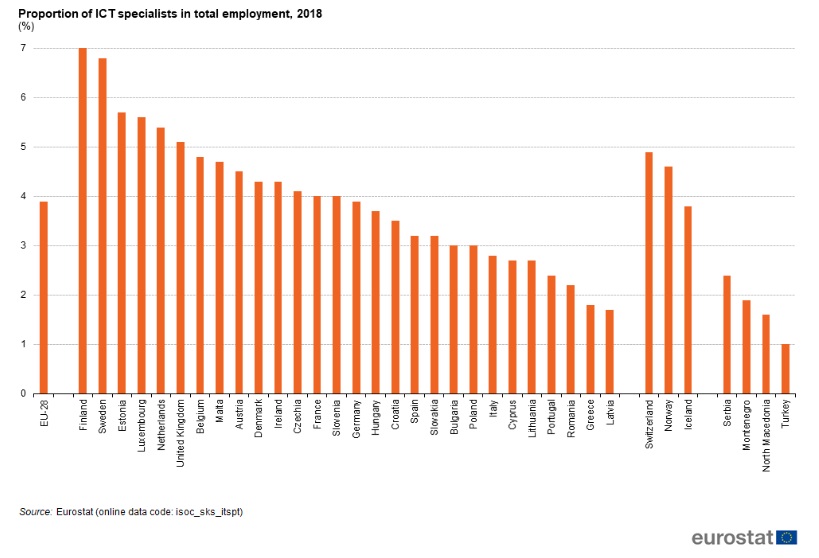 While broadening employment in the ICT sector means that Europe is keeping up with the global league, the demand for e-skills continues to grow at a very quick pace. In 2020, the European labour market is projected to be lacking more than 670,000 ICT professionals as SMEs and multinational companies are competing for ICT workforce to be able to correspond with the urging needs of digital transformation. Again, the number of respondents reporting difficulties when hiring digital workforce in the CEE region is growing, Hungary is surpassing the average (60%), while Romania (45%) and Poland (37%) are also catching up – this time, not in a good sense.
How much is the worth of competitiveness?
As a result of the constantly increasing market demand, ICT salaries are highly competitive all across the globe. However, earnings fundamentally depend on factors such as country, gender, age, education level, and the type of job. Payments are also higher at bigger companies and freelancers usually tend to earn more than company employees. As statistics show, Europe is still divided into two main parts when looking at the salary level of the ICT sector. At the same time, wage growth in the Eastern bloc is accelerating well above inflation which remarks a real wage increase more than twice as the rate of Western Europe. The ICT industry has recently expanded in Eastern Europe by 7%, thanks to significant demand for traditional IT services from Western Europe and the USA.
As for specific examples, in Romania, ICT wages increased with a compound annual growth rate of 11,53%. In Hungary, according to Hays's latest survey, junior software engineer salaries are around 1672 EUR on the average, and the wages are increasing exponentially with experience gained. Poland's ICT professionals can be just as much satisfied, as they earn almost twice as much as employees in the construction industry and the business sector with their 1914 EUR average sector salary.
Skills, education, coding schools
As for the urging need of educating qualified ICT professionals in a growing number, Western and Central-Eastern Europe face the same challenges. Competency-focused education and training becomes more and more important as a considerable number of new positions at the ICT scene requires strong management and communication, foreign language knowledge and project management experience from different industries, besides, of course, valuable programming knowledge. According to Eurostat, more than two-thirds of all ICT specialists had completed a tertiary level (meaning International standard classification of education) of educational attainment in the EU, which gives thorough knowledge, while the curriculum is much less flexible and practice-oriented.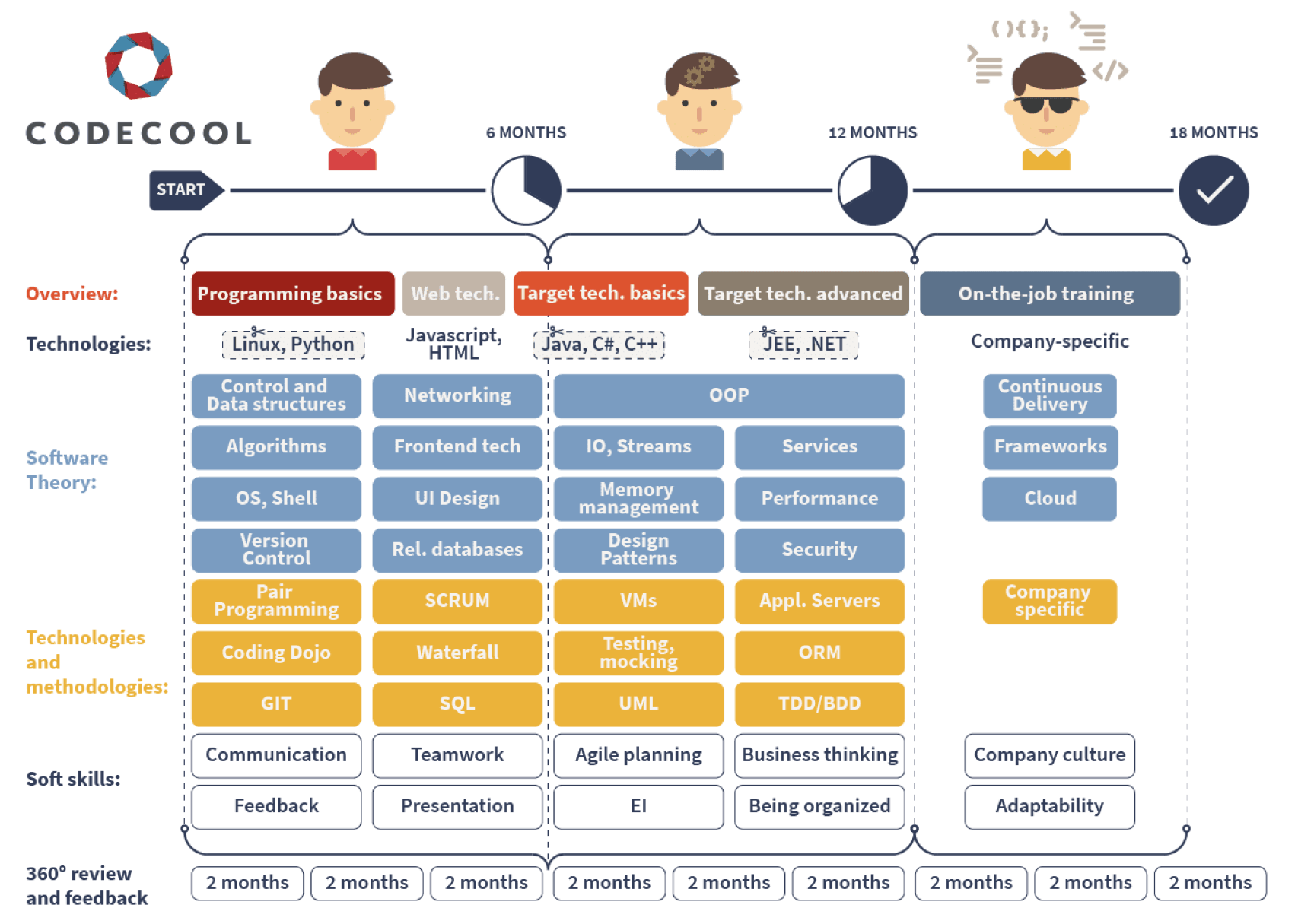 "The general approach towards ICT professions has changed remarkably in the past few years. As the average salary level increases every year, the ICT sector becomes more and more attractive to employees in every market, which leads to a growing number of career shifters. These new ICT incomers are very well capable of bringing all the above-mentioned soft-skills into the equation, but there is also the demand for at least entry-level programming skills. This is the point where the private sector comes into the picture, which can help to fill in vacancies with freshly-trained candidates that can be shaped further with company-specific skills and knowledge" – points out Balázs Vinnai, founder of Codecool.
Codecool is a new-generation coding school operating 5 campuses in 3 countries - Hungary, Poland, and Romania. With more than 150 corporate partners and 500 graduates per year, Codecool has gained established experience in training and sourcing new digital talent. During the 12+6 month training period, their students learn mainstream programming languages such as Python, .NET, Java and Javascript, along with GIT, various databases and agile software development methods like SCRUM, becoming full-stack juniors by the end of the bootcamp.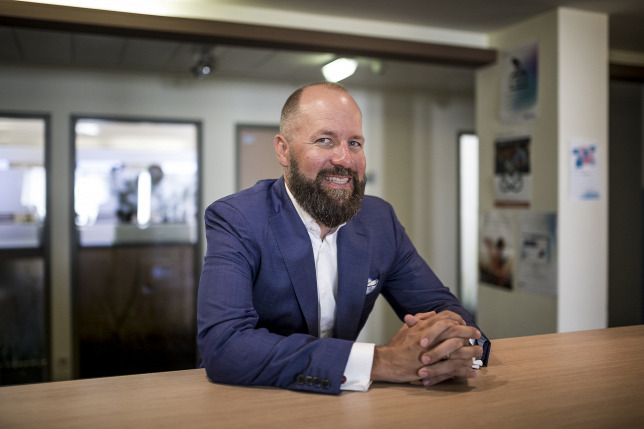 As Balázs Vinnai says: "Most of the curriculum require team-work, good communication skills and the ability to cooperate with other team members. The main advantage of this model is that the trainings are relatively intensive and fast, the technical curriculum is flexible, and it can be quickly modified according to market demands. Bootcamps are set to provide a well-trained digital workforce with basic or medium professional knowledge and a strong soft-skill set. Partnership with the labour market is well-established, ensuring direct access to most of the important players of the ICT sector."
Europe has a fundamental interest in fostering digital transformation through the whole continent, which can only be effectively supported by establishing a strongly cooperating ecosystem between the key actors of this field. National governments should continue to support institutions of higher education, which provide ICT specialists with broad and comprehensive knowledge, while it should also start to further invest in the private education sector to enhance the training and re-training of well-skilled junior professionals. Stakeholder companies could play a perfect complementary part in these ecosystems by supporting the better integration of the new digital workforce into the market, with involving them in company-specific trainings and real-life ICT projects during their education.